Policy on the Use and
Management of Personal Information
Rejection of Unauthorized Collection of Email
Unauthorized collection of email address is not allowed.
We refuse to collect unauthorized e-mail addresses posted on this website using e-mail collecting programs or other technical devices, please note that violation of this law will be penalized criminally by the Information and Communication Network Act.
" Stable production and supply of NiSO4, a core material of secondary batteries "
KEMCO was established in 2017 in line with the increasing demand for the secondary battery utilized by electric car and ESS industry, also, KEMCO is an affiliate of Korea Zinc Company in Young Poong Group.

The production facility is located in Onsan in Ulsan industrial complex in March 2018 Starting with 20,000 tpy of NISO4.

AS of now, the annual production capacity is 80,000 tons, intending to increase more volume to cope with increased market demand.

Amid the fast-changing market, securing steady and reliable resources is considered the key to success, We, KEMCO will willingly contribute to the growth of secondary battery industry in Korea.
켐코가 걸어온 길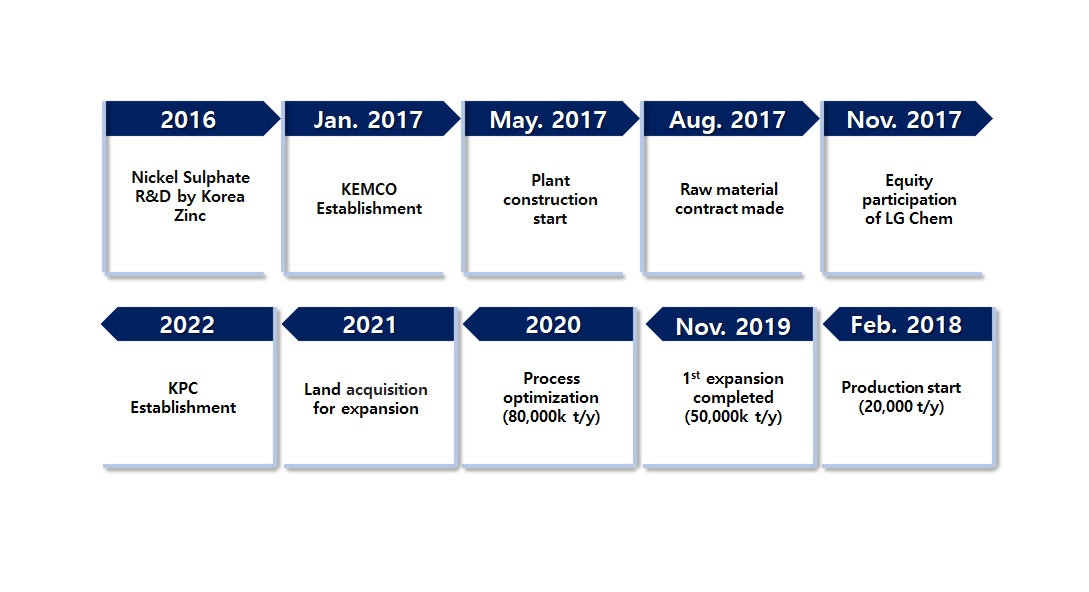 CEO
Head Quarter
Management Team
Sales
Purchase
Administration
Onsan Plant
Production Team
Operation Support Team
Quality
Logistics
SHE
Support